Spring Chicken Festival (Siler City Parks and Recreation)
Saturday, May 6, 2023 (10:00 AM - 6:00 PM) (EDT)
Description
2023 Spring Chicken Festival
The 2023 Spring Chicken Festival is back on Saturday, May 6th from 10:00am to 6:00pm in Downtown Siler City, NC, and is proudly sponsored by Mountaire Farms, Inc. The 2023 festival will feature live musical performances, mechanical and inflatable attractions, and tasty food options. A variety of vendors will fill the streets with arts & crafts, handmade goods, informational booths, and other items for sale.
Live Musical Entertainment
We are excited to welcome back The Embers featuring Craig Woolard to the main stage. The Embers will be live from 10:30am-1:00pm. The Embers are a well-known NC Official Ambassador for Music and are listed in the South Carolina Beach Music Hall of Fame. The Embers perform Beach music, heart and soul, rhythm and blues, and feel-good music. Additionally, we will welcome to Siler City our second band Gipsy Danger from 3:00pm to 5:30pm who will offer many fan favorite songs from every genre and mash it up with bluegrass instruments to give you something different and keep your feet dancing.
Attractions & Rides
The Town of Siler City is greatly appreciative of the support and sponsorship of Mountaire Farms to the Spring Chicken Festival. The festival will feature lots of fun attractions for all festival patrons and guests including the annual "Chickin Pickin" Hosted by Mountaire themselves. 2023 attractions will include the Ferris Wheel, Camel Slide, Jitterbug Swing Ride, and more. Attractions will be located along East Second Street and are free for everyone to enjoy. Pirates of Promised Treasure will be anchoring their interactive pirate ship also.
Get Connected
Stay connected with the festival by viewing up-to-date news and opportunities on the Spring Chicken Festival Facebook Page and the Siler City Parks and Recreation Department on Instagram and Twitter. Additional information, site maps, etc. may also be viewed on the town website at www.silercity.org as the festival grows closer so festival fans can plan their visit. For more information about any of the Spring Chicken Festival events, please contact us at (919) 742-2699 or stop by the Parks and Recreation office.
For more information, please contact the Siler City Parks and Recreation Department at (919) 742-2699, email recreation@silercity.org, or visit the Town of Siler City website at www.silercity.org.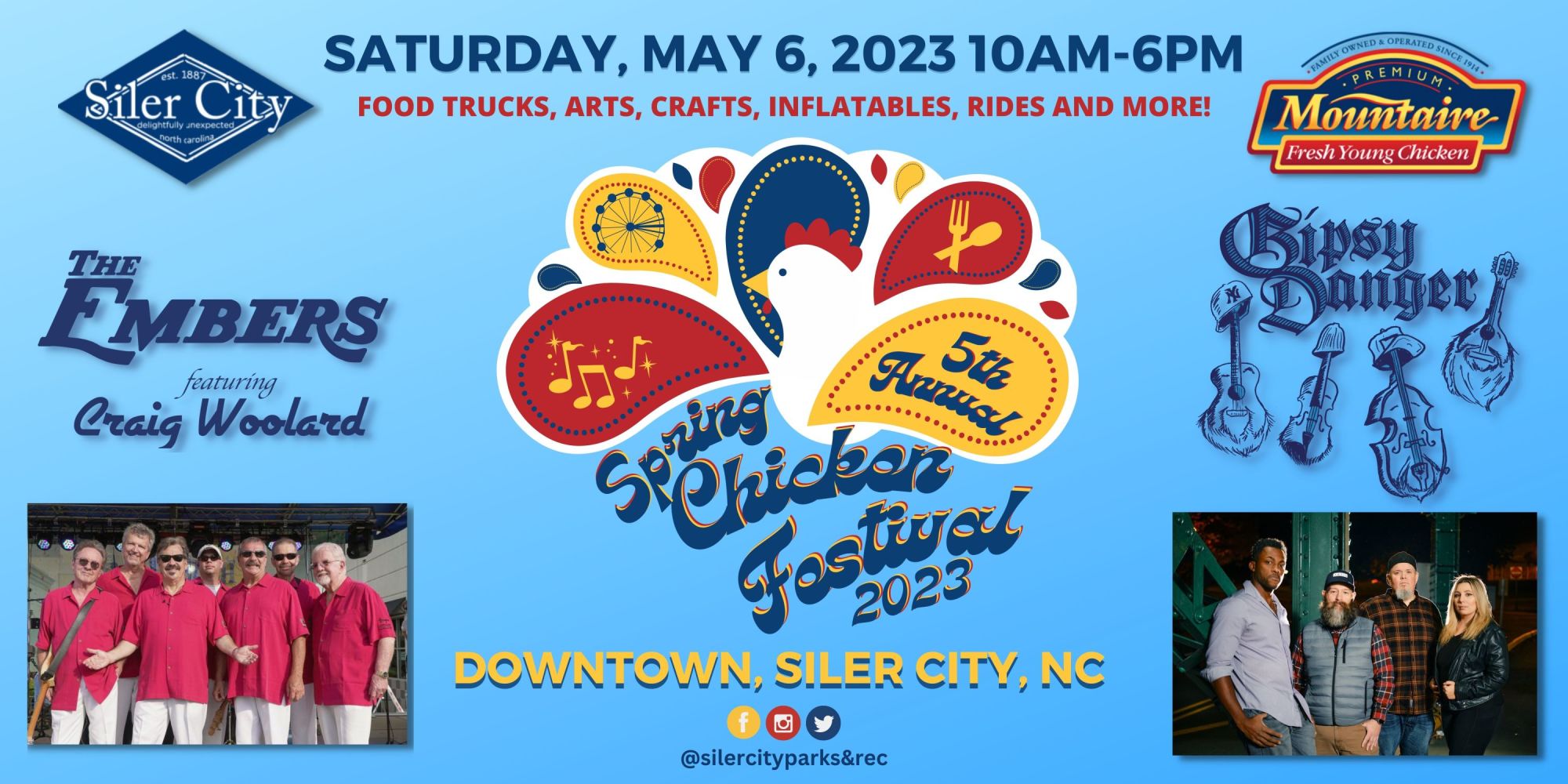 Pricing
This is a free event that the whole family and community is certainly going to enjoy!
Saturday, May 6, 2023 (10:00 AM - 6:00 PM) (EDT)
Saturday, May 6th from 10:00am to 6:00pm